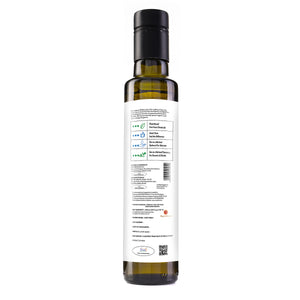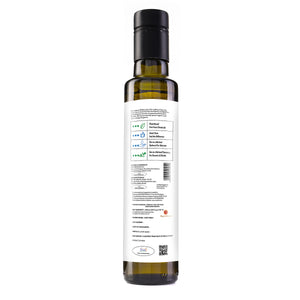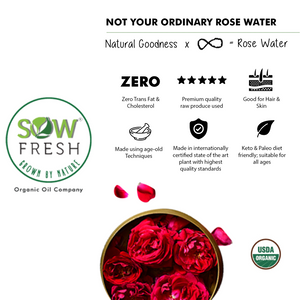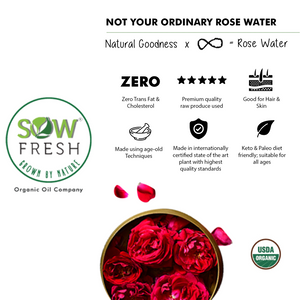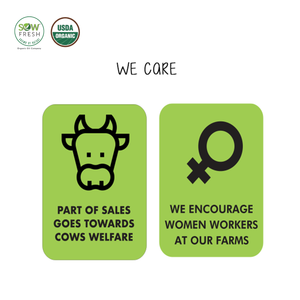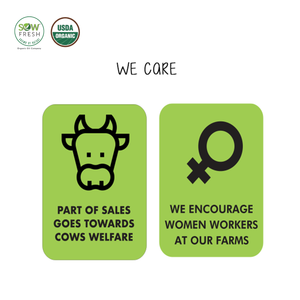 On Sale
USDA CERTIFIED ORGANIC ROSE WATER
 USDA CERTIFIED ORGANIC ROSE WATER (250ML)
The organic roses used in the making of our Rosewater are carefully grown by our network of farmers from Rajasthan - The Colorful Ethnic Land Of India.
You'll get the highest nutrition & abundant energy guaranteed, as we use organic roses which are used to obtain pure & natural rose water.
FEATURES
High in Anti-Oxidants
Used As A Natural Food Flavour
Soothes & Nourishes Skin 
Used As A Natural Makeup Setter & Remover
100% Natural (Chemical Free, Paraben Free)
USES:
Used as flavouring in Sweets like- Phirni, Kheer, Energy Bars, Turkish Delights
Used in Beverages, such as Lassi, Faludas, Cocktails, etc.
Best for making natural relaxing teas Used as a natural flavouring in sweets
Best in making natural homemade Face Packs, Ubtans
Used as a Natural Makeup Setter & Remover
Known to help with Puffy Eyes, Mood Enhancer 
EAT RAW | APPLY
"NOT YOUR ORDINARY ROSE WATER"
Highest Quality Organic Roses used
Good for Hair & Skin
Made in internationally certified state of the art plant with highest quality standards
Made using age-old Techniques 
Our products are used globally by many consumers who have made SowFresh a part of their daily lives. We get many calls & feedbacks with benefits our customers get by using our products We have shared their stories on our website: www.sowfresh.in/reviews