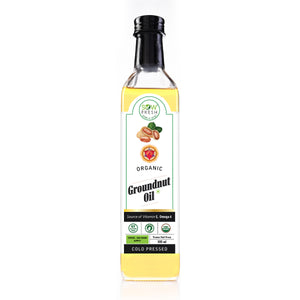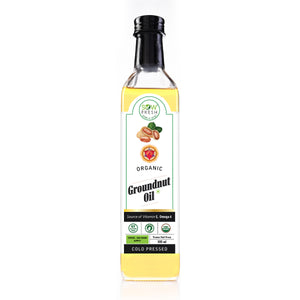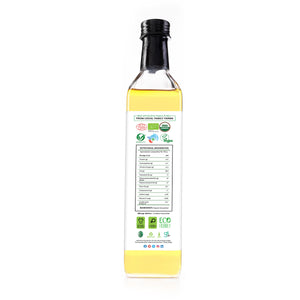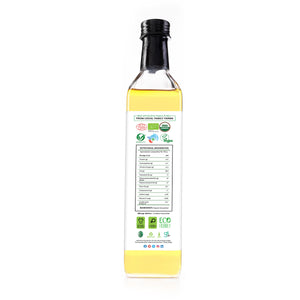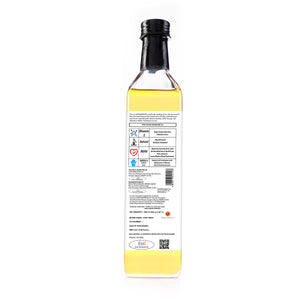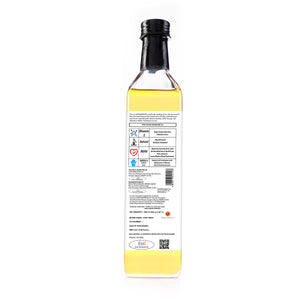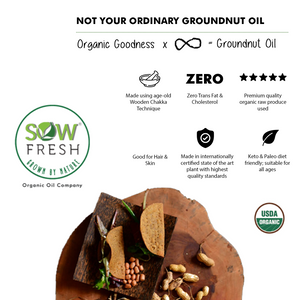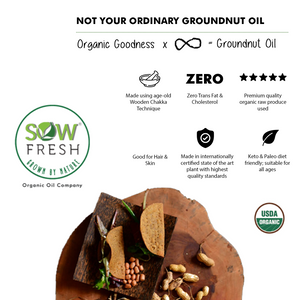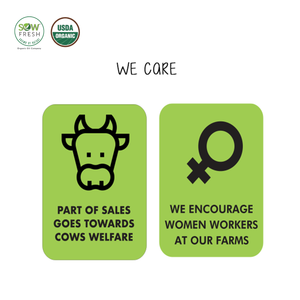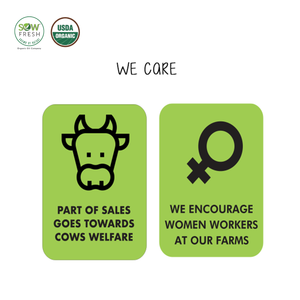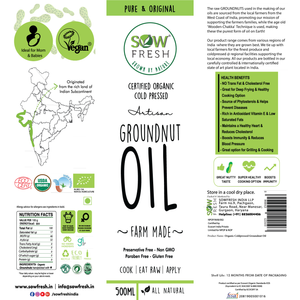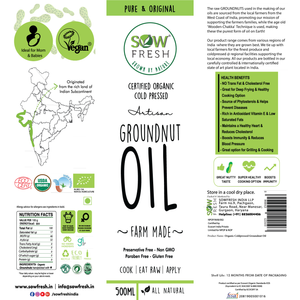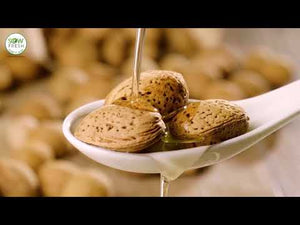 On Sale
GROUNDNUT OIL
COLD PRESSED ORGANIC GROUNDNUT OIL (500ML)
The organic groundnuts used in the making of our Cold pressed Groundnut Oil are specially grown by our network of farmers.
You'll get the highest nutrition & abundant energy guaranteed, as we use groundnuts which are cracked open to obtain Cold Pressed oil, within 24 hrs to retain max nutrients & moisture content, also known as peanuts.
FEATURES
Super Health Cooking Oil (Cholesterol Free)
Rich Source Of Vitamins A, D & E
Zero Trans Fats, Contains Low Saturated Fats
Anti Oxidant 
Boosts Immunity & Prevents Diseases
A Good Source Of Phytosterols
100% Natural (Chemical Free, Preservative Free, Paraben Free)
USES:
A healthy cooking option rich in proteins
Best suited for Saute, Grilling & Deep frying
A Healthy Alternative to Refined Oils
 "NOT YOUR ORDINARY GROUNDNUT OIL"
Naturally Heat Stable (Retains Nutrients when cooking at High Temperatures)
Highest Quality Organic Groundnuts Used (Traceability from Field to Bottle)
Made using age-old Techniques
Good for a healthy Diet 
Made in Internationally certified state-of-the-art plant with Highest Quality Standards
COOK | EAT RAW | APPLY 
THE COLD PRESSED WAY OF LIFE
The oils you use for everyday cooking are extracted from seeds, fruits, vegetables & nuts. The way that oil is extracted has a direct effect on how the oils tastes & amount of nutrients in it. Using heat for oil extraction degrades the nutritional quality & flavour. Using Cold Pressed methods, such as Wooden Chakka Technique produces higher Quality healthier Oil.