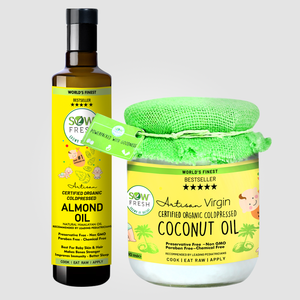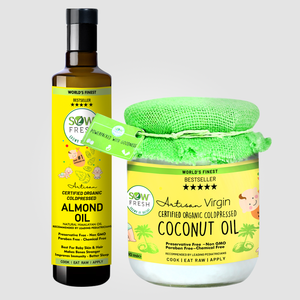 On Sale
BABY ESSENTIALS
BABY ESSENTIALS
ALMOND OIL (250ML), COCONUT OIL (500ML)
Our children are our Pride & Joy! In this age of uncertainty we offer the HIGHEST QUALITY Baby Cooking & Massage Oils. 100% Pure & Organic. 
We promote an Organic lifestyle & believe that the closer we are to nature the better! With this in Mind Sowfresh has developed a range of Organic Baby Oils which are enjoyed by our customers globally & recommended by leading paediatricians. 
"GIVE YOUR CHILDREN ONLY THE PUREST, SAFEST & BEST" 
FEATURES
Excellent for Babies' Hair & Skin 
Rich in Vitamin & Nutrients 
No Chemicals (Certified Organic) 
Made using age-old Wooden Chakka Technique
Premium quality Almonds & Coconuts used along with shells for max freshness
Made in an Internationally Certified state of the art plant with Highest Quality standards
100% Natural (Gluten Free, Paraben Free)
COOK | EAT RAW | APPLY 
JOIN THE SOWFRESH WAY OF LIFE! "GIVE THE GIFT OF HEALTH"